Free Plans for Building
a Chicken Coop
If you're feeling ambition and have the time and money to build a chicken coop from scratch, here are free plans to help you get started. Before you start, please read the basics of a chicken coop page to make sure you give your chickens everything they need for a successful life in the city (or anywhere else for that matter!).
Free Plans for Building a Chicken Coop:
Backyard Chickens Community
(They have over 2,000 free coop plans of all shapes and sizes!)
Portable Mini-Chicken Coop Plan
The Stealth Urban Chicken Coop
Organic Gardening's Movable Coop
Good (Reasonably Priced) Chicken Coop Plans:

The Garden Coop
(The plans cost $20 and come with the option of buying all the needed hardware from them, which is a real plus in my opinion!)
My Pet Chicken Coop Plans
(They have a variety of coop plans starting at $10 and up)
Additional ideas: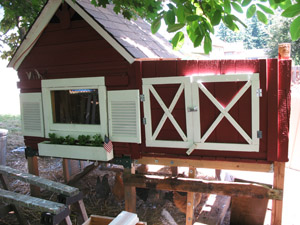 I built the above coop from a re purposed two story play structure and lots of scraps. You can see how I did it step by step here.
You can also easily convert a dog house into a coop like the one above that I found for $40.00 on Craigslist (I brought it home for a nursery coop). One half of the roof raises and there are nest boxes built inside along with a roosting pole. There's also a side door for easy access to clean the coop. A coop this size would be good for 2-3 hens.
Here's a few other Small Coop Ideas.