Pumpkin Stencils
If you love chickens, why not carve one into your
jack-o-lantern this year?
It's easy, it's fun and the chicken stencil below
is full-sized, free, and downloadable.
What are you waiting for?
Ready to show your love of chickens to the world? Here's a pumpkin stencil you can try out on your pumpkin this year: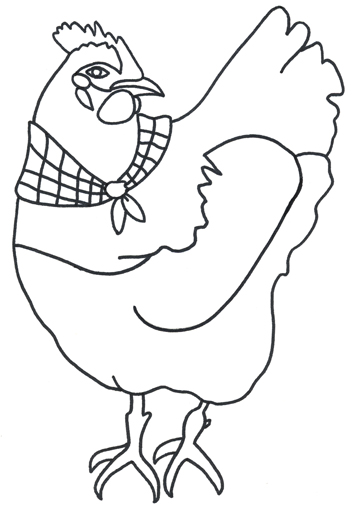 (Download a full-sized pdf of this pumpkin stencil to use on your own jack-o-lantern)
After you download the stencil, here's what you do:
1. Carefully cut the top off your pumpkin and scoop out all the seeds and stringy stuff. Set the 'lid' aside while you finish carving.
2. Tape the stencil to your pumpkin.
3. Use a push pin, or other small pointed object (that's strong so it won't break off in your pumpkin) to poke tiny holes along the black lines of the design. Poke holes about every 1/8 to 1/4 inch apart.
4. Remove stencil. And you're done ...unless you want to get a bit more fancy...
5. (Fancy step) If you want to create a little bit of 'depth' to your chicken, carefully carve the outer (orange) pumpkin skin from places in your design. Leave the pumpkin flesh (the lighter colored stuff), and just remove the hard skin. Be careful not to poke through the flesh.
By removing the outer skin on your pumpkin, the light will glow through in those spots, creating a cooler design and making your chicken look more three dimensional.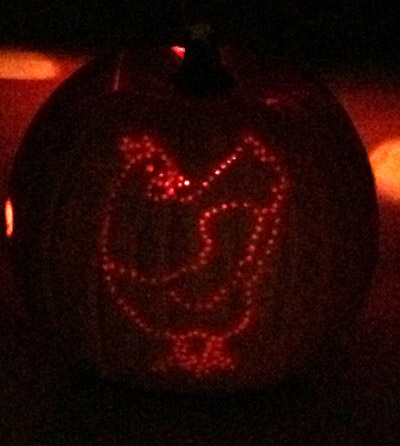 PS If you'd like a visual step-by-step, visit City Girl Farming's Blog post about it.