Icecream Cone Cupcakes
My mom occassionally made
Icecream cone cupcakes
when I was a kid. It was a special treat
to take them to school on my birthday
(back when you could actually bring homemade treats to school!)
These fun, easy cupcakes are sure to
be a hit with all the kids!
To make your own Icecream cone cupcakes you will need:
24 flat bottomed cake icecream cones
1 batch of frosting. Again, you can buy pre-made, or make it from scratch (here's recipes for chocolate, vanilla and peppermint frostings)
Mini Marshmallows (optional)
Sprinkles and other frosting decorations (if desired)
1 regular muffin tin
1 mini muffin tin (optional)
Steps:
1. Preheat oven according to cupcake recipe you're using.
2. Make cupcake batter according to recipe instructions.
3. Place one icecream cone in the middle of each muffin tin cup.
4. Fill each cone with 4 mini marshmallows (optional). Then add batter to fill cones up to the bottom of the lip (where it changes shape).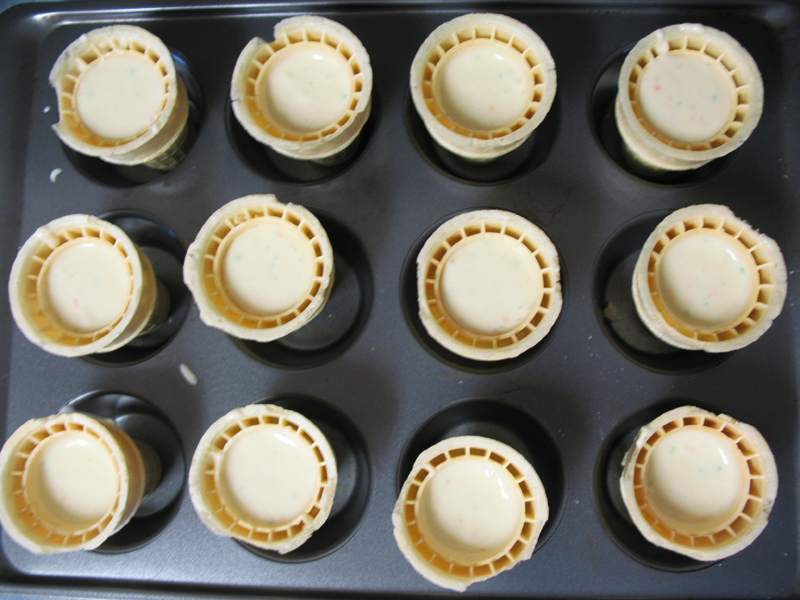 5. Carefully place muffin tin in oven and bake according to recipe instructions.
6. If you want 'taller' icecream cones, spray a mini muffin tin with cooking spray and fill each cup 2/3 up with batter. Since they are smaller, they'll get gone faster, so check on them ofter to keep them from overcooking.
6. While the cupcakes are baking, make frosting.
7. When cupcakes come out of oven, take a fork or pointed knife and prick a tiny 'air hole' in the bottom of the cone. This will help air to escape and keep the cones from getting soggy.
8. After cupcakes are completely cool, take one mini muffin, turn it upside down and 'glue' it to the top of a cupcake with a bit of frosting. Repeat until all the cupcakes have a mini muffin sized cupcake stacked on top of it. (Again, this step is optional, it just gives more of an icecream cone look).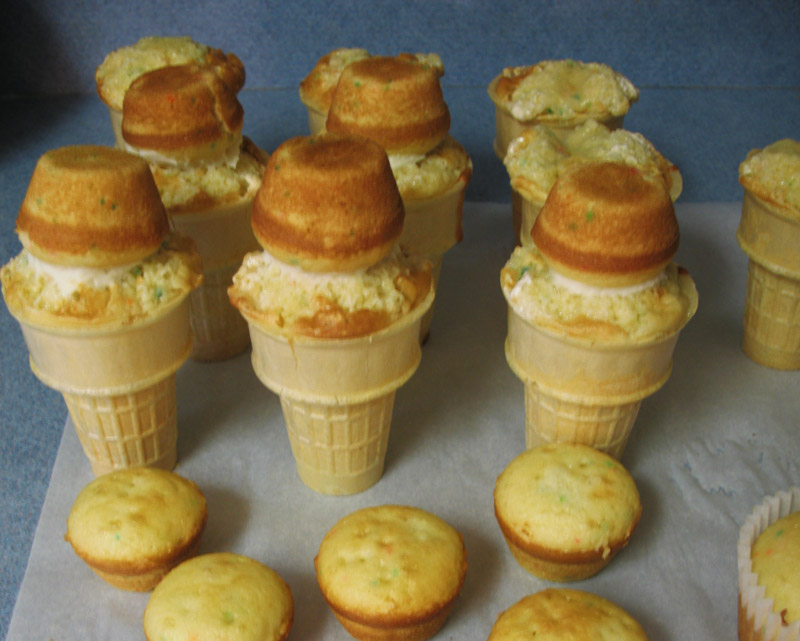 9. Frost and add sprinkles, etc.
10. Eat and enjoy!